Laminate is constructed in layers to create lasting, affordable, beautiful floors. Four layers of material, each of which has its own purpose, are fused together through a direct-pressure process that binds them into one extremely durable material. And this material is today's laminate—a type of flooring that will endure much wear and tear, performing well for many years.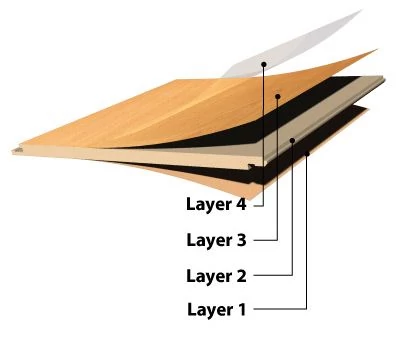 A Closer Look At Laminate Layers: 
Layer 1:
A melamine backing layer that provides a moisture barrier and structural integrity and stability.
Layer 2:
A dense, strong inner layer—sometimes called core-board—made of compressed wood fiber.
Layer 3:
A melamine decorative layer that provides the floor's beauty and realism through highly detailed photography—giving laminate the appearance of natural hardwood, ceramic tile, or stone.
Layer 4:
A melamine wear layer that offers a tough, beautiful finish resistant to stain, fade, and wear. (In some products, it is reinforced with aluminum oxide, an extremely hard mineral compound, to increase resistance to staining, fading, surface moisture, and wear.)

Contact us if you have more questions about laminate flooring.